The Destination For Those Who Love The Game
Naismith Memorial Basketball Hall of Fame


The Destination For Those Who Love The Game
Naismith Memorial Basketball Hall of Fame
Hall of Honor
The Naismith Memorial Basketball Hall of Fame is the destination for basketball lovers around the world. It tells the story of the game and celebrates its exemplars at all levels, from the playground to college to the NBA and WNBA. Northern Light Productions was asked to help spearhead the media design and production for an entirely revamped visitor experience that was as dynamic and interactive as the game itself.
Among our exhibits is a stunning 40-monitor dynamic animated video-wall for a reimaged Hall of Honor, where visitors stand in front of basketball's greats and relive some of the most celebrated moments in the history of the sport. There is a separate three-monitor display area for new inductees in the Hall of Fame that creates a signature moment for each year's class. In front of both exhibits rests comprehensive interactive stations designed by our media partner Richard Lewis Media Group, allowing visitors a chance for a deep dive of everyone enshrined in the Hall.
Services
Media Exhibit Design
Content Development
Original Production
Project Management
UX Design
Software Development
Graphic/Visual Design & Development
2D & 3D Animation
Game Development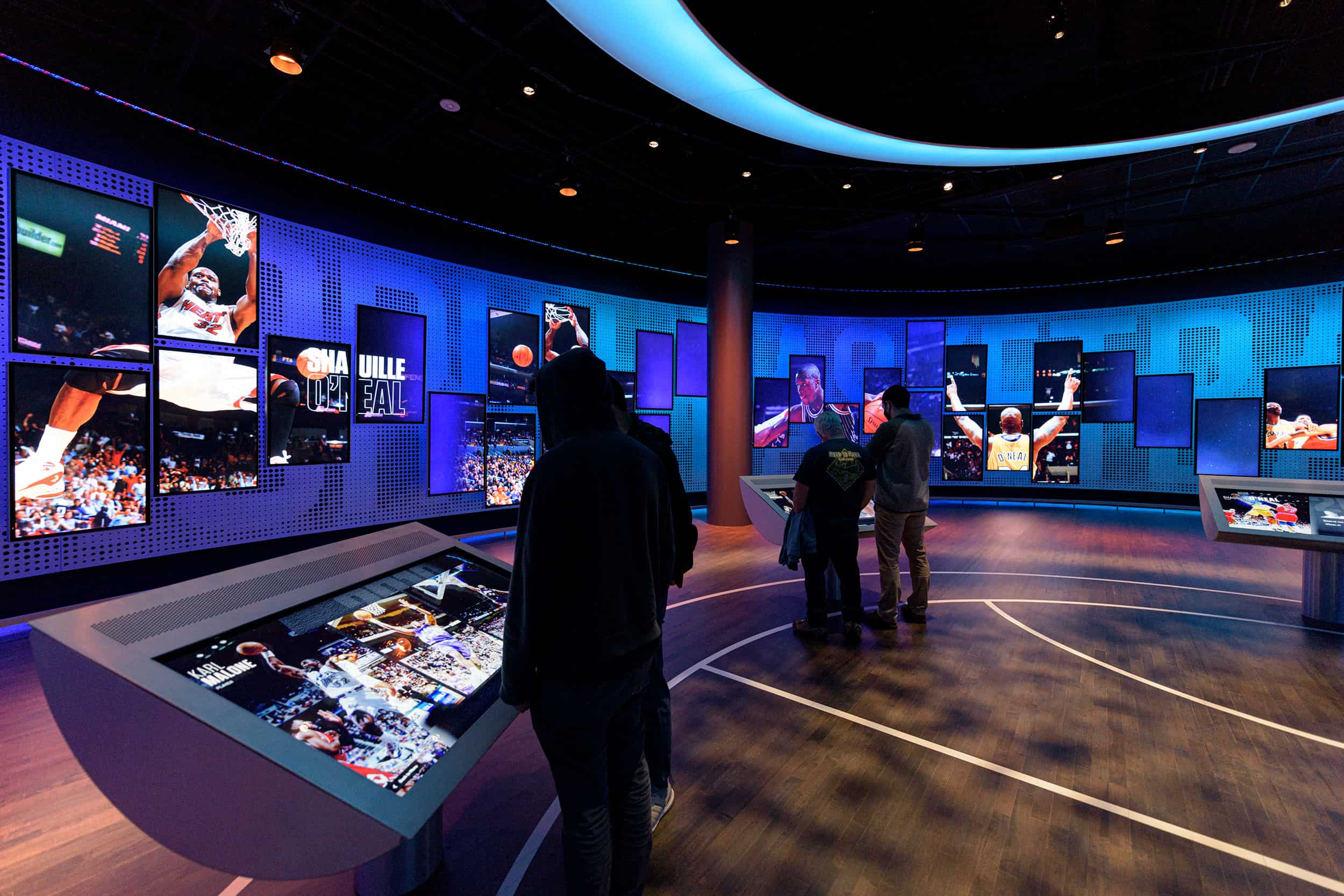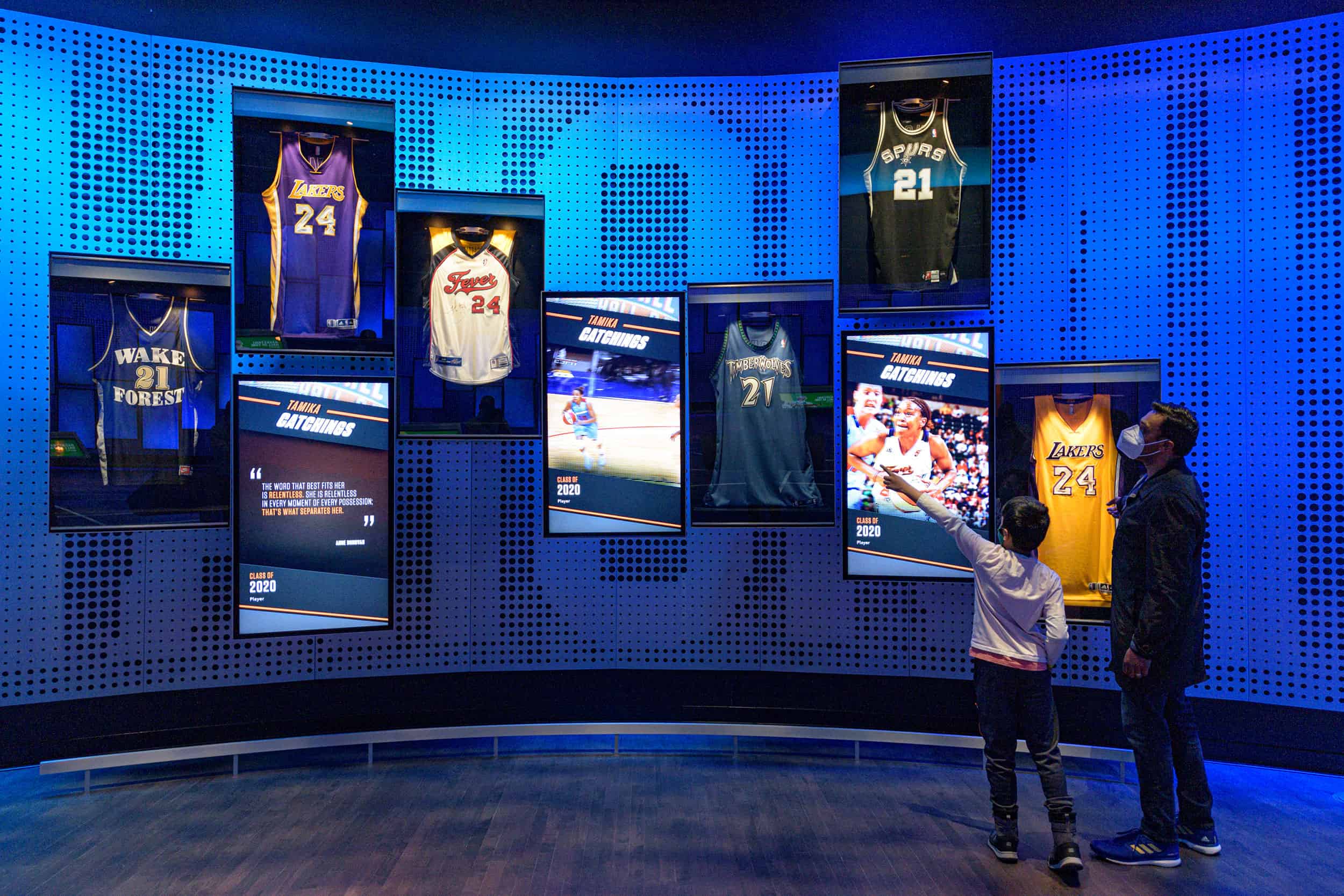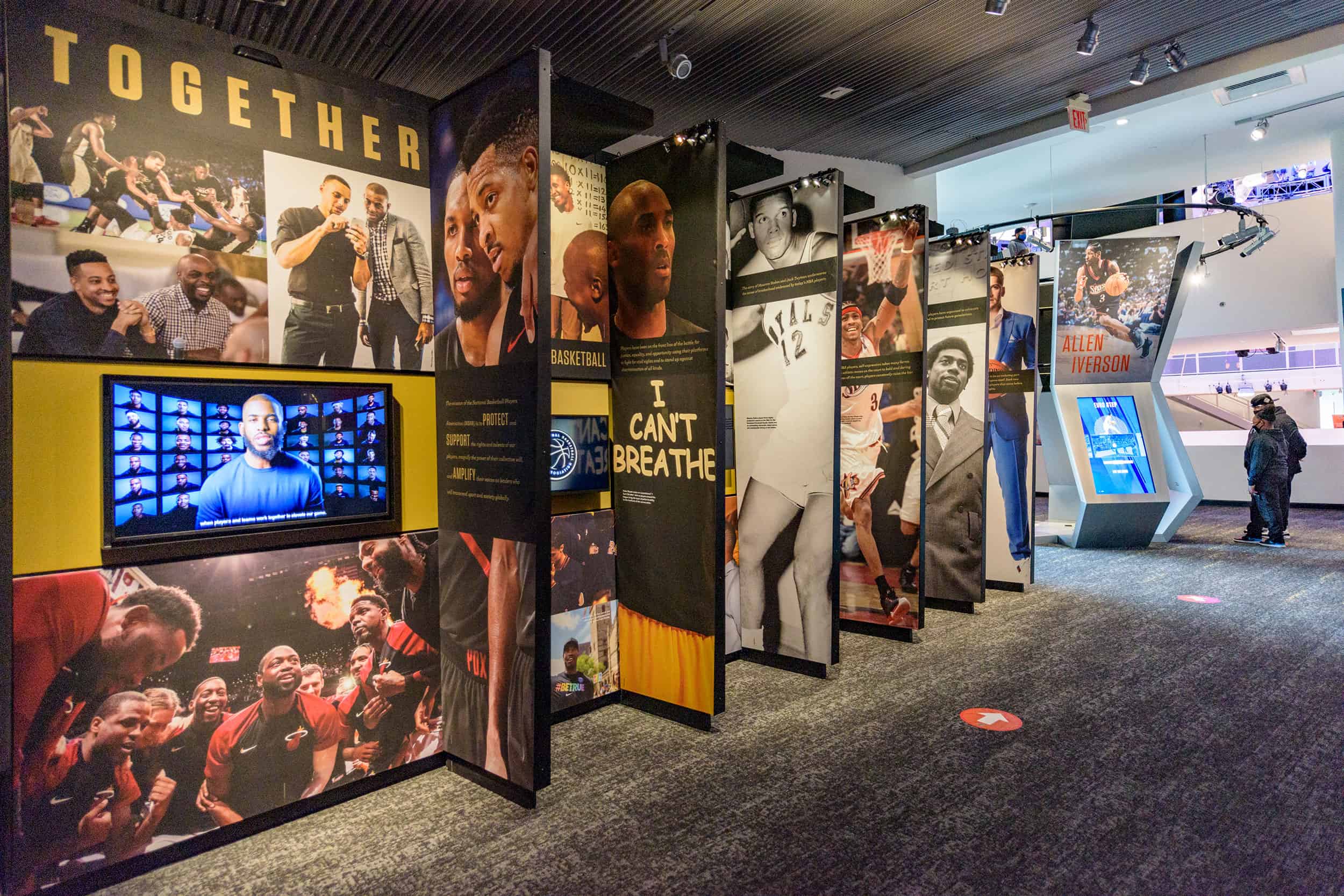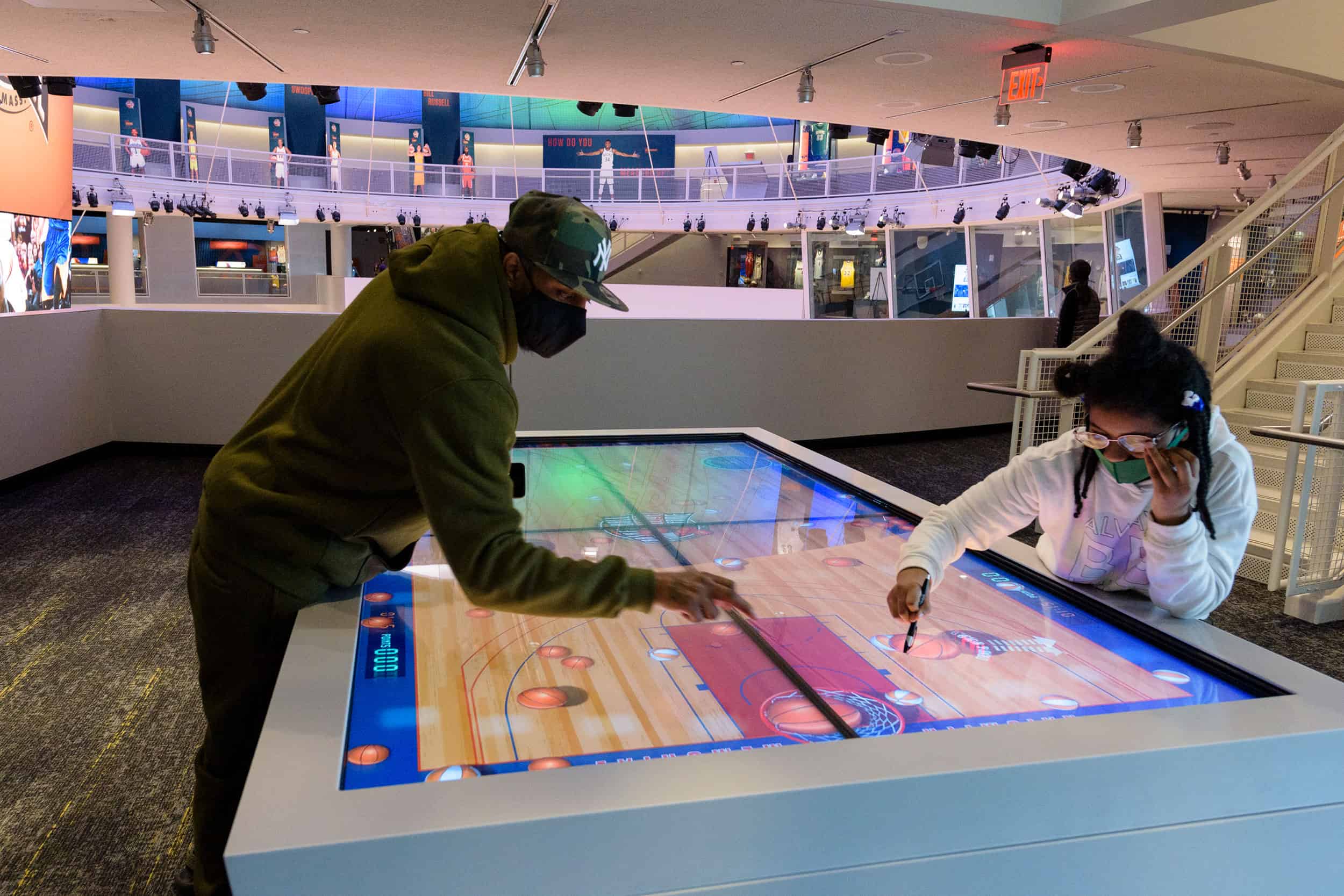 designer collaboration with CambridgeSeven
fabricator collaboration with Mystic Scenic
lighting collaboration with EOS Lightmedia
multi-user "Game On" table
rotoscoped immersive interactive experience
square feet of exhibit space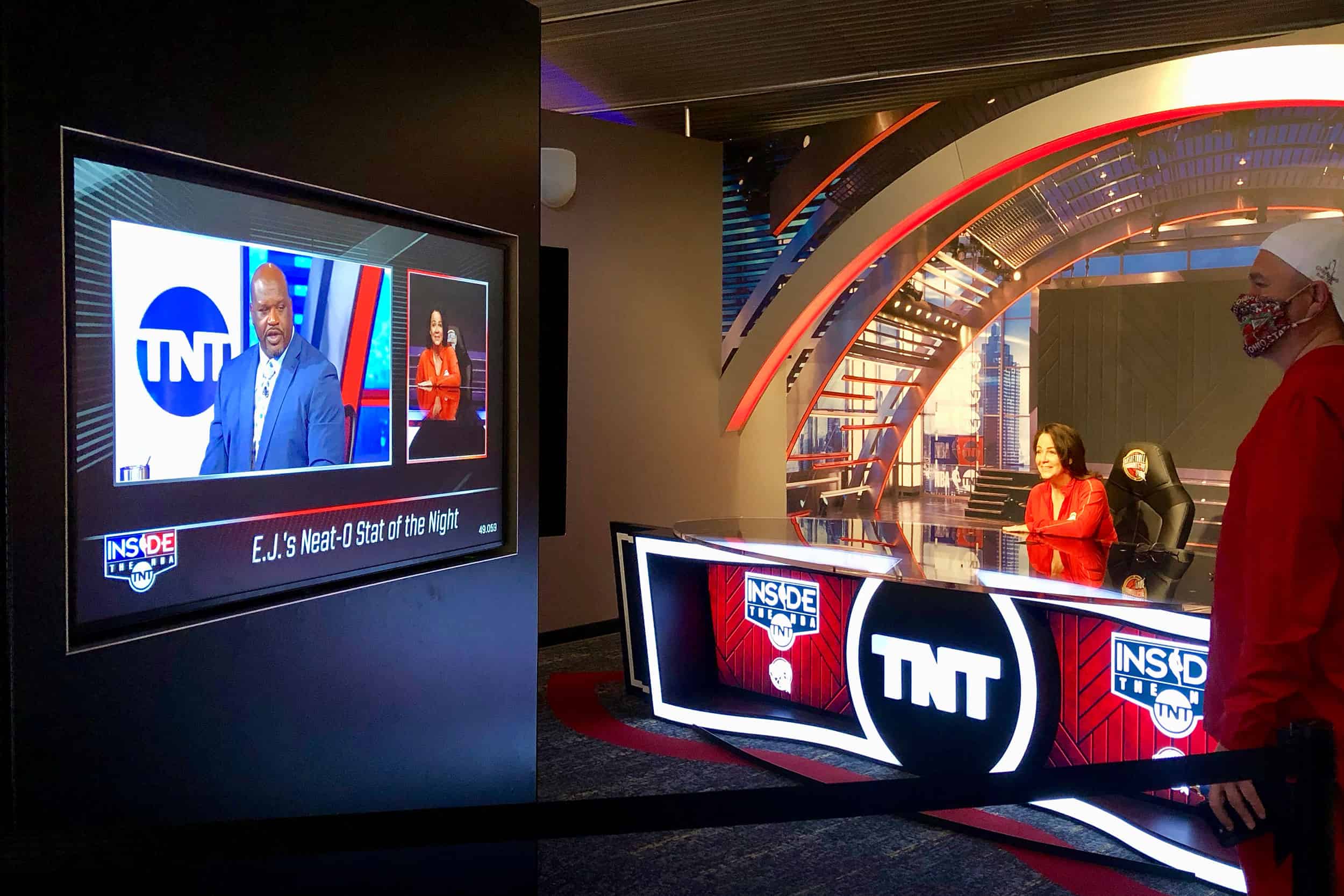 Other highlights from the Hall of Fame include "Basketball Road Trip," a fun and engaging interactive game we developed and programmed where players assume a character from basketball's barnstorming era and need to figure out their travel and budget to make it to their game on time. In "Game On!", a multi-user table, visitors pop a shot and score points by answering trivia questions.
In the final gallery, visitors have the opportunity to sit shoulder to shoulder with Charles Barkley, Kenny Smith, Shaquille O'Neal, and Ernie Johnson Jr., the hosts of Emmy-winning series Inside the NBA on TNT. EJ hosts the experience, designed and produced by Northern Light Productions, where visitors participate in the games and challenges which are a staple of the show via augmented reality. This fully immersive interactive experience culminates in a recorded video that visitors can take home, a souvenir of their unique encounter with basketball greats.
On the signature televison show, Inside the NBA, "Gone Fishing" refers to teams who have been knocked out of the playoffs. This fan favorite segment features comical photoshopped images featuring the famous cast. As part of our collaboration with TNT, visitors can join in this fun by having their photo taken, selecting a silly background, and emailing themselves a souvenir photo with the famous cast.
We sought out the creative services of Northern Light Productions for our multimillion dollar renovation. As we have re-imagined our space, our messaging, and our mission, NLP has collaborated every step of the way. Our objective was simple: Reclaim the Basketball Hall of Fame's standing as the World's Finest Sports Museum. In a game where last night's action is paramount to telling our story, NLP has provided the tools and expertise to deliver content in fresh, easily updatable, and meaningful ways.
Experience it
for yourself
---